Introduction of nursing care site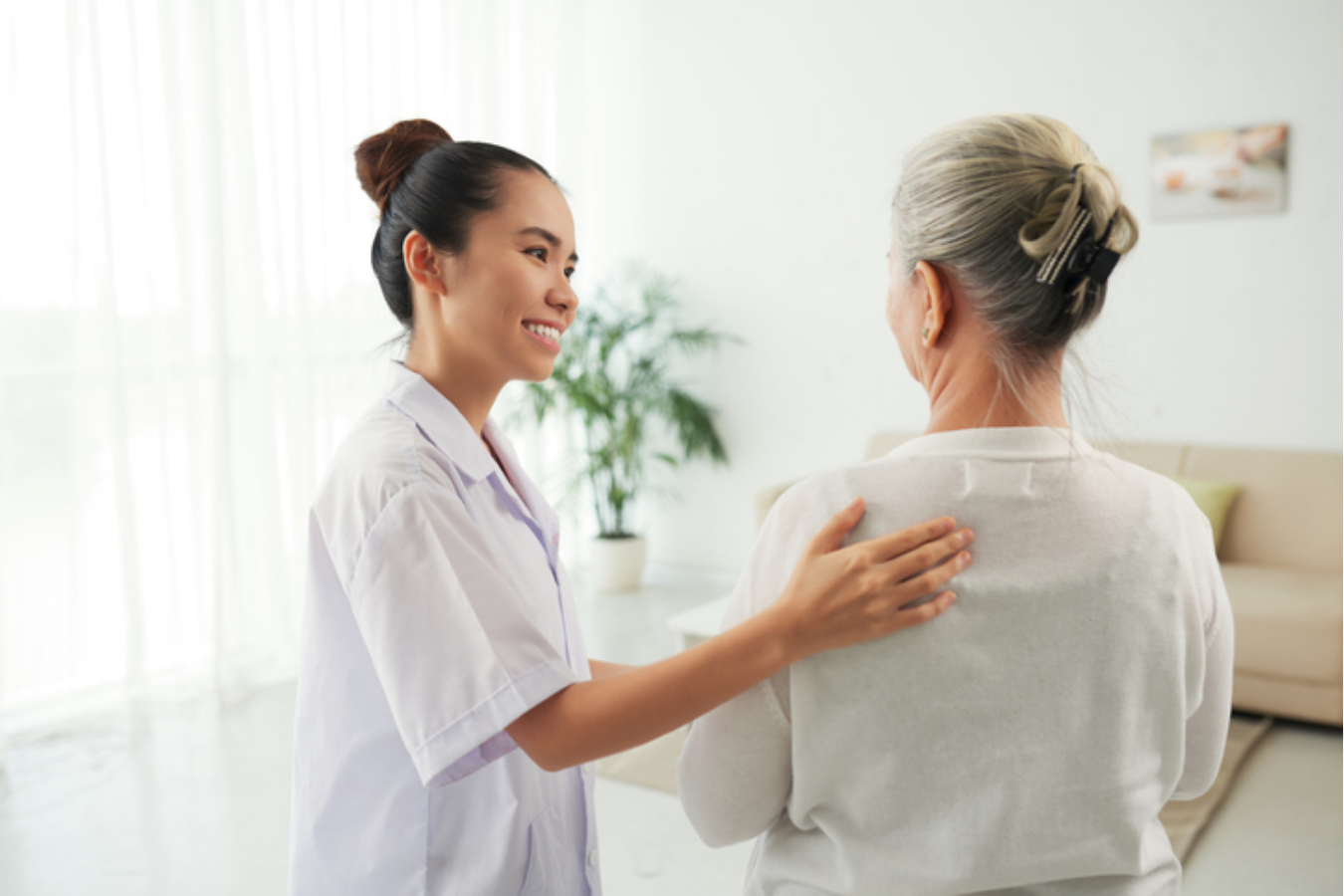 Japanese nursing care sites where you can grow yourself and get a qualification while working
Japanese nursing care site
WING STAFF Co., Ltd. specializes in job placement.
In Japan, the aging society with fewer children is accelerating. While social welfare facilities are increasing, human resources to support the elderly are a shortage.
The job of nursing care is to support the daily lives of residents in facilities. Specifically, you assist with changing clothes, eating, excreting, changing diapers, taking a bath. You will also take part in planning and implementing recreational activities. In addition, communication with the elderly is essential, so a person confident to communicate with Japanese older people can play an active role in the nursing care field. (The required Japanese proficiency is usually N3 or higher.)
Useful and necessary qualifications
Beginners training for nursing care staff
This qualification is an entrance for working as a nursing care worker. You can qualify in only one month.
How to attend training for beginners nursing care staff
● After taking a curriculum of 10 subjects and 130 hours at training schools throughout Japan or correspondence courses, you must finally pass the written exam.
● Written examination
Most contents of the exams are unique to each training school.
Most of the answer methods are selection type, but some are descriptive type answers.
The passing standard is 70 points or more out of 100 points.
● The price of the exams depends on each training school, but it is about 60,000 to 150,000 yen, including training and exams.
Practitioner training for certified care workers
This qualification ranks higher in training for beginner care workers and is mandatory if you aim to become a nationally qualified certified care worker.
How to complete practitioner training for a certified care worker
● You need to learn and complete the curriculum with 21 subjects and 450 hours at training schools in Japan or correspondence courses.
● You can take this course even if you do not have a beginner's care staff training qualification, but it depends on the training school.
● Written exams are not always required, but some schools may do them.
● The essential qualification to take the exam of the national staff of certified care workers.
● The market price varies depending on each training school and whether you are qualified or not.
Unqualified: About 100,000 to 200,000 yen
Beginner training qualification: About 90,000 to 150,000 yen
Certified care worker
The only Japanese national qualification for care workers.
How to qualify as a certified care worker
● A written test is held in January, and a practical test is held in March every year, and the examination fee is 15,300 yen.
● The qualifications for taking training are as following types.
The type of work experiences
Has more than three years of work experience in care work and has completed training for care workers.
Study cases at the training facility
Has a high school graduation qualification and has graduated from a long-term care worker training facility (two years or more).
After graduating from high school and graduating from any of the following schools, which are welfare universities, social welfare training facilities, or childcare worker training facilities, and then graduated from a care worker training facility (one year or more).
EPA care worker candidate acquires the certified care worker qualification
Vietnamese, Indonesians, and Filipinos, who aim to become care workers in Japan and receive training at EPA host facilities, are called EPA care workers candidates by us.
After having more than three years of training and work experience at the host facility, pass the national examination.
EPA stands for Economic Partner Agreement.
Examples of overseas human resources' activities
People who have a residence status with no restrictions on stay (permanent resident, Japanese spouse, spouse of permanent resident, and long term resident) and who have training qualifications for beginner care worker in Japan, and who can communicate in Japanese. Those people are active in the field utilizing their capabilities.
The required Japanese proficiency is usually N3 level or higher.
The person who is not qualified as of now will be active as an assistant to the care staff. Specifically, you will assist in changing clothes, eating, excreting, changing diapers, taking a bath, and planning and carrying out recreational activities. In addition, communication with the elderly is critical, so Japanese proficiency is required.
Present and future of nursing care
Status quo (COVID-19 calamity)
Due to the influence of the COVIE-19, the number of job offers at the current nursing care site is limited, and to seek ready-to-work personnel (qualified person with Japanese proficiency) is a high tendency. The persons who have no experience working in the care industry and don't have Japanese ability are hard to be hired as nursing staff.
After the COVID-19
If the coronavirus crisis comes to an end, many nursing care workplaces will be a further labor shortage. We expect that the number of job offers will increase more and more. Even if you do not have qualifications, your employment opportunities will increase if you are confident in communicating with Japanese people. If you improve your skills further and renew or change your status residence, it may lead you to a long-term stay.
At a time of labor shortage
After that, even if you are not qualified and your Japanese ability is N3 level or less, we expect your working opportunity to expand.
Japanese language ability we hope
The Japanese Language Proficiency Test (JLPT) ranges from N1 to N5 level, but many technical intern trainees who come to Japan for the first time may be at the N5 level. The nursing care industry usually requires a Japanese language ability equivalent to the JLPT N1 to N3, but some people at the N4 level are working actively in the nursing care industry. However, these are just examples, and it does not mean that you cannot work unless you have already passed the JLPT.
The N4 level means you can almost understand the conversation when people speak slowly in our daily life. The Japanese level required at the nursing care site is to communicate smoothly with the caregiver. We believe the person who can cuddle up to the other person with communication skills can actively role in the care industry.
Inquiry email